Highest offer in minutes with Loan / Sell Estimator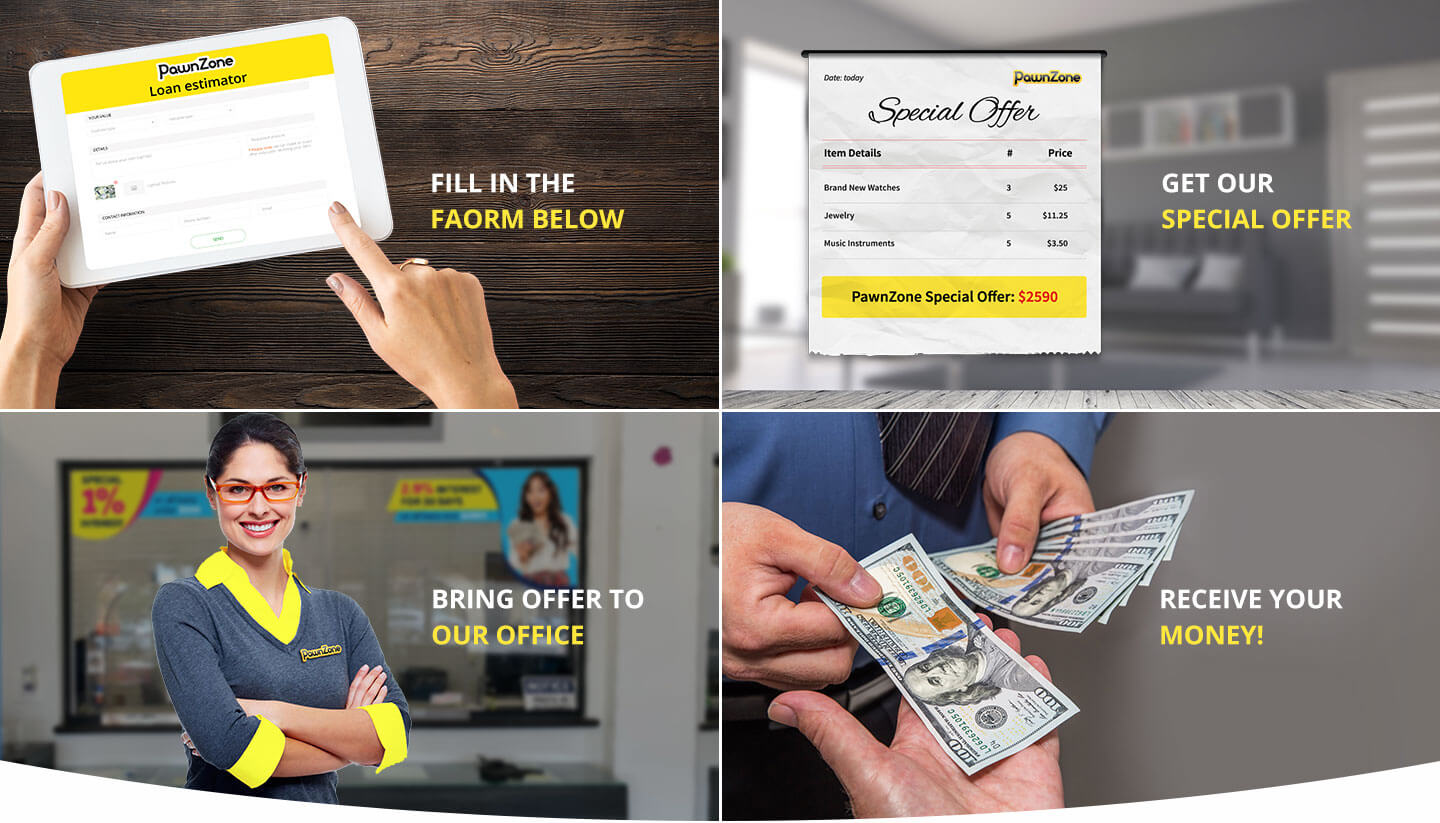 Accept the offer and receive a
Visa $10 gift card
Please, fill out the form below in order to receive a free preliminary estimate or visit PawnZone location near you for more accurate quote.
It's time you got a fair appraisal of your valuable stuff. At PawnZone, you can trust that our team of experienced appraisers will calculate the value of your items and give you a reasonable estimate every time you come in the store.
No matter the item, we will evaluate its true value and give you the best market price. Simply take a photo of your item, post it on our website, and one of our talented team members will reach out with an accurate online appraisal.
Securing an affordable short-term loan has never been simpler. Thanks to PawnZone's wealth of experience in delivering top-notch personal loan services, you can finally breathe easier knowing your loan amount will be accurate to the items you've provided.
Each appraiser is GIA educated and experienced in assessing the value. For more than 30 years, our team has appraised a variety of products ranging from art pieces and antiques to sports memorabilia and watches.
Do you have an item that you think may be worth a healthy sum? If so, you need to get it appraised online today. We will discover the value of your antiques and help you secure the best value for your loan.
Best of all, you can trust that your item will be well taken care of. PawnZone gives you the chance to sell your item or take out a loan as needed.
When you bring your items in physically to our store, we will make sure to return them to you as soon as your loan is paid off.
We abide by strict privacy standards to ensure that your trust is never breached. Your appraisal is safe and confidential between us, period. Nobody else will receive information about your item especially when it comes to price.
There is no credit check or proof of income needed, so we can guarantee complete privacy throughout.
Why wait? It's time to learn the true value of your antiques, get a furniture appraisal, or learn about other valuable items. Thanks to PawnZone's easy to use an online appraisal tool, you can lock in the best value today.